Remote Data Recovery Service
All you need to know about remote Data Recovery Service
The Process of gaining access to files and data on the internet that are lost/deleted or not accessible through normal commands is known as Remote Data Recovery. This type of data recovery option is the fastest method in an emergency situation. It is also particularly interesting for PCs and Servers that have experienced logical data loss because of corruption or user error but which are still active.
In many cases, deleted or lost data and files can be recovered by using a Remote Recovery Service. With this process, the internet is used to remotely access your machine so you don't have to send your hard drive to the data recovery services.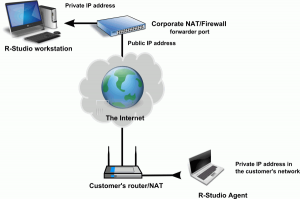 How to know if your Disk Fault is qualified for getting a Remote Recovery Service?
Basically, you can use a Remote Recovery Service if your faulty hard drives show the following symptoms:
Files or Folders have been deleted
Hard drive is running extremely slow
Files or Folders are no longer accessible
Files or Folders are not showing or have disappeared from the hard disk.
Hard drive has been re-installed or formatted
When you try to access the hard drive, the message says that it needs to be re-formatted to access it
Data Doctor's Remote Recovery Service is applicable to many hard drive problems. For instance, if your hard drive has a mechanical problem or makes ticking noises when you power it on, it will not be suitable for a Remote Recovery Service. This is because your hard drive has a physical fault and it will not possible to be recognised by the computer until you replace the faulty part of the hard drive.
What you can do when you experience data loss
You should stop using the storage device as soon as possible or you can switch the device to read-only mode. Never attempt to restore data to the same device from a backup as doing this may cause permanent data loss.
Data doctor Remote Data Recovery Features and Advantages
Data doctor provides a fast, secure, convenient and cost-effective remote data recovery service to repair the data loss and return your system to its original working condition.
Your data recovery in your own secure location
Provide 24 x 7 remote data recovery service to the customers anywhere in the World
It is one of the fastest ways to recover your data while saving the time of shipping transit
The recovery process starts within minutes
Your original and highly sensitive data always remain protected
Once it's recovered, your data will be available right away
Remote Data Recovery Process
Data doctor Remote Data Recovery is a three step process:
Step 1: Connecting is easy – By downloading and installing a small software from our server, you can easily get connected to our remote recovery technician in just minutes.
Step 2: Get Connected – Once you get connected, technicians will evaluate and assess your situation. They will take into consideration the cause of data loss, type of data to be recovered and your system. Once done, they will give you a quote for your data retrieval.
Step 3: Just Sit Back – After you authorise the data recovery, you just need to sit back. Our specialist will recover your lost data and files, also return them to a usable condition.
Note here: This technique cannot be used for physically damaged drives.
Requirements for Remote Data Recovery
Your failing hard drive must spin up, be detected and receive power
Your PC or laptop should be connected to the Internet through a network cable. Wireless internet connections are not supported.
You may need to attach an external USB drive to the computer in some cases so that your recovered data can be stored there.
Data doctor Remote Data Recovery Service can perform remote data recovery to save the data in your external USB drive, internal hard drive or RAID array using a highly secure connection. We specialise in hard drives that suffer from logical failures, including bad sectors, accidental formatting, lost partitions, raw drives, RAID crash, etc.